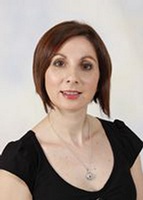 Lily Cotronea
A(Dip) CBA-CICB, (Cert IV in Dance Teaching & Management)
Member of Imperial Society of Teacher of Dance, London
Lily Cotronea is the Founder, Principal and Ballet teacher of Lily's Dance Studios. In 1988 Lily opened up her very first dance school in a small hall in Westbreen, Pascoe Vale. She later moved to Oak Park for several years and in 2001, opened a new dance studio in Belair Avenue, Glenroy, where classes are currently being conducted. Lily's Dance Studios now has approx. 300 students. Classes in Classical Ballet, Jazz, Tap, Hip Hop, VCE Dance & Contemporary are being offered 6 days per week.

Lily's passion for dance goes beyond teaching others. She has been an acclaimed dancer herself for numerous years and is now paying it forward by passing on her training, experience and gifts along to her students. Renowned teachers and organizations have developed Lily's dancing talent throughout the years, including Mr. Athol Willoughby, O.A.M., at the Essendon Academy of Ballet in Melbourne. Mr. Willoughby has trained her in classical ballet, including the Enrico Cecchetti Method.

After 16 years at the Essendon Academy of Dance, Lily gained her Associate qualification in Classical Ballet with the Cecchetti Society, London. Lily was also taught jazz and modern dance by Miss Janette Liddell thereby gaining her Diploma in Jazz with the Modern Dance Educational Syllabus (M.D.E.S.).

In 2014, Lily received her Associate Diploma in Classical Ballet (Cecchetti Method) and Certificate IV in Dance Teaching & Management. She is a member of the Imperial Society of Teacher of Dance in London and a State Committee Member of Cecchetti Ballet Society. Her goal is to one day become an Examiner and to continue to instil knowledge, encouragement and respect to her students.